BUILDING BETTER TRUCKS SINCE 1947.
Since the company was founded in 1947, Alexis Fire Equipment has evolved and grown from a small fabrication shop with the limited capacity to hold only four units at a time, to a sophisticated business that now spans over 55,000 square feet and employs over 75 skilled engineers, craftsmen, and mechanics — a figure that continues to grow. As one of the only remaining family-owned fire equipment manufacturers in the Midwest, Alexis continues to instill the tradition of product excellence, acute customer care, and superior service.
Over the past few years, Alexis has expanded its product line to include not only uniquely custom-built aerials, rescues and pumpers, but also major overhaul refurbishment and apparatus remount projects. And for those customers who are not interested in a completely custom-built vehicle, Alexis has done most of the work for you with their exclusive line of Specialty Vehicles featuring the Response 1, Vision Series, and the new Engine 1 series — designs based on decades of experience building fire trucks and truly understanding the needs of firemen and rescue workers. This significant list of added products and offerings in less than four years, provides proof that Alexis is a dynamic and growing competitor in the fire industry, and will continue to exceed customer expectations in both personal attention and product quality.
Unlike most fire equipment manufacturers who promise custom fire trucks, Alexis actually delivers on the meaning of custom-crafted apparatus. Working side-by-side with each customer, Alexis will construct your vehicle based on your specific department's needs, and you can view the progress of your truck online weekly. The Alexis team — from the best engineers and draftsmen to highly skilled mechanics and craftsmen — build your truck from the ground up. No standard packages or machine-assembly line. An Alexis truck is as unique as our customers. Never counted as a number. Only as part of the Alexis family and legacy.
Please take the journey through our web site to learn more about the Alexis experience. If you're not already part of the Alexis family, perhaps you should be.
OUR HISTORY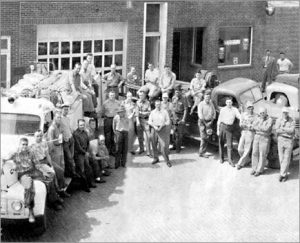 Gene Morris built his first two trucks while employed at Ashland Oil Company in Ashland, Kentucky. After six years with Ashland, he decided to use the experience he had gained to begin his own business. In 1945, Gene returned to his hometown of Alexis, Illinois, and opened a small welding and fabrication shop. He noticed the fire engines he repaired in his shop were poorly built and knew he could build a higher quality truck.
In 1947, Alexis Fire Equipment Company was born. The original facility employed four men and could accommodate only three to four units at a time. Gene discovered a market opportunity in rural Illinois and Iowa for his product. With dedication, pure hard work, and extensive traveling, Alexis Fire Equipment grew rapidly.
In 1963, an addition was built which doubled the manufacturing capacity and enlarged the office space. In 1974, another addition was built for truck fabrication. The original building was then converted to a parts warehouse and support facility. Alexis Fire Equipment thrived in the mid-70s, at the height of federal revenue sharing. In 1989, the company evolved again and began to specialize in the manufacturing and service aspects of the business, which contributed to company growth along with sharpened marketing efforts.
Family dedication is the foundation for the successful operation of Alexis Fire Equipment. Jeff Morris, son of Gene Morris, started working at Alexis while attending Bradley University. After graduation, he became Alexis Fire Equipment's chief engineer, providing education to his fellow employees and customers. Jeff, now president of the company, has a great deal of gratitude to his father. "I'm managing the company now, but the credit goes to Dad for building this business."
The company that began with Gene and his family has grown into a multilevel corporation with an ever-expanding staff of dedicated employees and skilled craftsmen. Since Alexis Fire Equipment opened their doors in 1947, pride has prevailed in both the positive attitude of employees and the quality of their workmanship. Even with the company's significant growth over the years, Alexis Fire Equipment continues to provide their customers with a personal, family atmosphere — to which the Morris family and Alexis employees are devoted.
WHY CHOOSE ALEXIS FIRE EQUIPMENT?
Family owned and operated since 1947.

Custom-built, high quality apparatus

Friendly and knowledgeable sales staff

Full Parts Inventory in Service Department

AFE Merchandise Store available 24/7.

Remount & Collision Center there when you need us.